Loft
LOFT
We finished renovating this flat in April 2008 – this was our first!
When first built, the attic was merely used as storage room, the only openings were destined to ventilation and the interior space wasn't finished.
It was only in the late XVIIIth century and in the beginning of the XIXth century that the attics - called 'águas furtadas' in Portuguese - were rehabilitated so that they could be used as housing for maids and footmen. As so and to provide the space the minimum conditions, the two roof dormers were added along with a chimney. The bathroom was probably combined later on, in the middle of the XXth century.
Even though meant to host the 'help' of this bourgeois family, this 'água furtada' was always very particular.
This is one of the highest rooftops in the street and therefore benefits from a magnificent solar exposition and an incredible rare view over the hills and the Tagus River.
The flat is a 60sqm open-space bellow the traditionally tiled pitched roof and surrounded by an assortment of fenestration. The smaller openings offer very particular framed views over Lisbon's rooftops while the bigger windows bring in a lot of sunlight. Natural light is everywhere, anytime of the day.
We placed the Italian style shower in one of the dormers, facing an unusual view: Lisbon's North hill side. You will have a shower to remember!
No need to describe in further detail, the pictures speak for themselves!
PRICES AND TERMS
The price of the flat (for 2 persons) varies from 75,00 € to 120,00€/night;
Municipal Tourist Tax: 1 €/ night/ person. Does not apply to children under 13. Maximum charge 7 consecutive days. It is due in cash upon arrival.
Final cleaning (mandatory, will be added to the final quote): 35,00€ per stay;
The price includes bed linen, towels, diverse charges: water, gas, electricity, cable TV, Wireless internet;
10% off for a stay of at least a week. 30% off for stays longer than a month;
Minimum stay of 3 nights. We accept stays shorter than 3 nights, although we add a supplementary fee of 40 €.
CALENDAR AND AVAILABILITY
Please check availability before making a reservation. Periods highlighted in red are booked.
If the flat is not booked during the desired period, please fill the reservation form HERE.
IN DETAIL
Number of occupants up to 2 persons [2pax];
Located in the 4th floor, no elevator;
Open-space/ studio;
Total area of 60sqm;
Bed size: double bed 1.40x2.00m;
Cable TV with 40 channels, DVD player, DVD's, Hi-Fi stereo system;
40 Mb Wireless internet;
There is air conditioning at your disposal;
The kitchen is equipped with a dishwasher, washer/dryer, refrigerator, microwave-grill, and electrical hob. There are also small appliances available. In the drawers and cabinets you will find everything that you might need.
FLOOR PLAN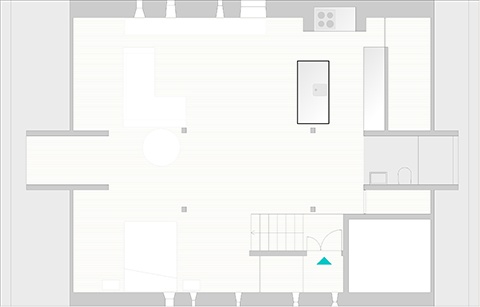 PLEASE NOTE
Guests are nicely recommended to consider with respect all objects, furnishings, furniture and equipment;
Although the final cleaning is our responsibility, guests are kindly requested to leave the apartment clean and tidy.
_
LICENSE #19438/AL