Stables
STABLES
The loft occupies the open space underneath a XVIIth century barrel vault.
It was first built as the stables of this bourgeois building - a crude volume where coaches, horses and stable boys sheltered.
Much later, it became a grocery store. Followed by a car shop. A fire occurred. From the late 80's until today, it hid secrets.
We took two years to renovate the stables, the basement and the small courtyard. We finally finished in March 2016.
We kept the essential: the empty vault. We added:
In the 'mezzanino', below an ogive vault covered with fragments of a XVIIth century fresco, a built-in bed and a shower;
Two Portuguese grey marble counter-tops, in the middle of the space;
A plywood box that conceals the toilet.
The dinning table sits comfortably 10 persons… or just 2 on opposite sides.
Outside, a small terrace and Lisbon's mild weather invite you to have a long and late breakfast or just a lazy afternoon accompanied by a glass of wine.
You will find objects that were designed and created specifically for this loft by Portuguese designers and artisans.
You will find articles that are part of our collection of antiques. You will find old stuff and rubbish.
We have a lot of plants and cactus. Could you please water them?
There is no TV. Sit down, enjoy the comfort of the armchairs and read a book.
PRICES AND TERMS
The price of the flat (for 2 persons) varies from 75,00 € to 120,00€/night;
Final cleaning (mandatory, will be added to the final quote): 30€ per stay;
Municipal Tourist Tax: 1 €/ night/ person. Does not apply to children under 13. Maximum charge 7 consecutive days. It is due in cash upon arrival.
The price includes bed linen, towels, diverse charges: water, electricity, wireless internet;
10% off for a stay of at least a week. 30% off for stays longer than a month;
Minimum stay of 3 nights. We accept stays shorter than 3 nights, although we add a supplementary fee of 40 €;
CALENDAR AND AVAILABILITY
Please check availability before making a reservation. Periods highlighted in red are booked.
If the flat is not booked during the desired period, please fill the reservation form here.
IN DETAIL
Number of occupants up to 2 persons [2pax];
Located in the ground floor, bed in a mezzanine;
Open-space/ studio;
Total area of 80sqm (76sqm inside + 4sqm balcony);
Bed size: double bed 1.40x2.00m;
The apartment's temperature is always very mild (cool during summer and warm during winter). Despite that, there is air conditioning (cooling and heating) at your disposal;
40 Mb Wireless internet;
TV NOT available; Hi-Fi stereo system;
The kitchen is equipped with a dishwasher, refrigerator, microwave-grill, electric oven and electrical hob and hood. There are also small appliances available. In the drawers and cabinets you will find everything that you might need;
In the basement, to which you have access, you will find a washer and a tumble dryer at your disposal for longer stays.
FLOOR PLAN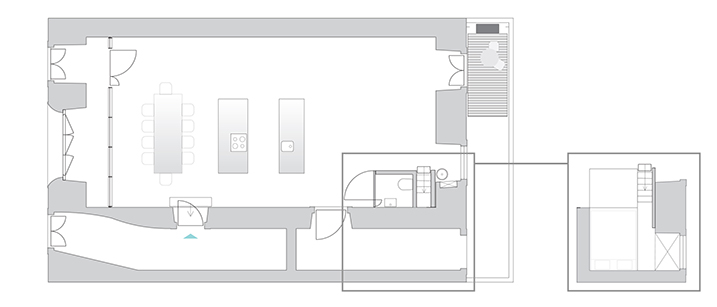 NOTE
Guests are nicely recommended to consider with respect all objects, furnishings, furniture and equipment;
Although the final cleaning is our responsibility, guests are also kindly requested to leave the apartment clean and tidy.
_
LICENSE #56041/AL